New York Jets' Zach Wilson warms up before a preseason NFL football game against the Green Bay Packers Saturday, Aug. 21, 2021, in Green Bay, Wis. (Matt Ludtke, Associated Press)
AROUND THE SHIELD — After Zach Wilson hung out with Aaron Rodgers during a pair of combined practices between the Green Bay Packers and New York Jets ahead of Saturday's Week 2 preseason game, the former BYU star looked right at home at historic Lambeau Field against a lagoon of mostly backup Green Bay defenders.
Wilson completed 9-of-11 passes for 128 yards and two touchdowns as the Jets downed the Packers 23-14 in Week 2 of the NFL preseason.
The Corner Canyon product posted a quarterback rating of 154.7, according to NFL stats and information, while hurling a pair of 18-yard TD strikes to tight end Tyler Kroft.
"He's making strides every week. One thing you can tell about him is he loves playing ball and loves being out there with the guys," Kroft said of Wilson. "It's cool seeing him progress every week; the first touchdown he had today, that pass was perfect. It was a great touch, he got it out on time and kept me away from the defender.
"It's cool to see him take those steps going forward."
Wilson has the second-highest passing grade of the top quarterbacks from the NFL draft through two preseason games, according to Pro Football Focus. The former BYU star's 85.7 rating by the service trails only Mac Jones, ahead of Justin Fields (65.3), Trevor Lawrence (58.7) and Trey Lance (48.8).
"I don't know where it ranks, but I think it's part of the process, just stack this up," Wilson said. "It goes back to the joint practices, too, and building off of those. How can we keep getting better and learning, even from the good plays."
Wilson practiced with Rodgers twice in joint practices leading up to Saturday's preseason game. And even though the two didn't duel — Rodgers is being held out of the entire preseason by the Packers — the three-time NFL Most Valuable Player and Super Bowl champion had high praise (again) for the baby-faced rookie from Draper.
"He's a good young kid, had a nice disposition," Rodgers told the NFL Network. "That kid can throw the heck out of the ball and that was a nice one down the right sideline at the end of the first. I'm so excited for what he can do in this league."
Wilson's former right guard at BYU, Tristen Hoge, rotated in at 22 offensive snaps off the bench. Former Utah defensive back Javelin Guidry made one tackle in 15 defensive snaps (and seven more on special teams).
Former BYU defensive end and basketball center Bronson Kaufusi played 34 snaps at tight end and nine more on special teams for the Packers. Utah State alum Tipa Galeai had one tackle and a tackle for loss while starting at outside linebacker, and former Aggie quarterback Jordan Love did not play.
Here's how other former Utah high school and college football standouts fared in the second week of the NFL preseason.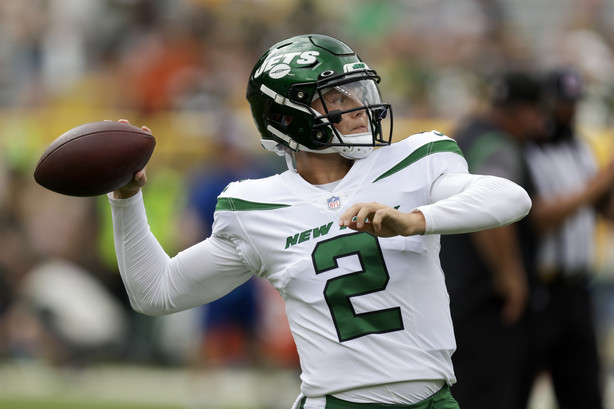 New England 35, Philadelphia 0
Former BYU linebacker and Bingham High alum Harvey Langi stuffed the stat sheet with five tackles, a 7-yard sack, a quarterback hurry, an interception, and a pass breakup as the Patriots shutout the Eagles.
Fellow BYU grad Kyle Van Noy added three tackles for the Patriots, who held the Eagles to 163 yards.
Stansbury product and Weber State alum Sua Opeta played 35 offensive snaps at guard for the Eagles.
San Francisco 15, LA Chargers 10
Former BYU safety Kai Nacua had two tackles, a quarterback hurry and an 18-yard sack as the 49ers locked down the Chargers.
The Niners' defense got the best of their Golden State rivals, scoring the first points of the game with a safety from a sack on LA quarterback Easton Stick. Former Utah punter Mitch Wishnowsky punted seven times for 326 yards — an average of 46.6 yards per punt — with one touchback and two punts downed inside the 20 for San Francisco.
Timpview product Corbin Kaufusi, who played on BYU's defensive line and men's basketball teams, rotated on the offensive line for the Niners.
Former Utah State linebacker Kyler Fackrell had two tackles, a sack and three quarterback hurries for the Chargers, who got one tackle from former BYU defensive back Michael Davis.
Former Orem High safety Aloha Gilman made two tackles on defense and another on special teams for LA.
Down goes Daniel! @KaiNacua with the sack for a loss of 18 😤

📺 #SFvsLAC on KPIX, https://t.co/vpdsX5I39D and the 49ers app pic.twitter.com/fQeiWNRR9K

— San Francisco 49ers (@49ers) August 23, 2021
Kansas City 17, Arizona 10
Zayne Anderson, the undrafted free agent out of BYU, had four tackles and a quarterback hurry to help the BYU grad Andy Reid-led Chiefs top the Cardinals in preseason play.
The Stansbury product played 32 snaps on defense and three more on special teams for Kansas City, which got one catch for 36 yards from Layton High product Marcus Kemp and 49 yards on eight carries from former Utah State running back Darwin Thompson.
Former BYU safety Daniel Sorensen made one tackle in 24 defensive snaps for the Chiefs.
Herriman and Utes product Leki Fotu started at nose tackle and made two tackles with a quarterback hurry in 39 defensive snaps for the Cardinals, and fellow Utah alum Kylie Fitts was inactive at outside linebacker.
Corner Canyon product Branden Bowen played two snaps on special teams for Arizona.
Washington 17, Cincinnati 13
Former Utah linebacker Jared Norris had two tackles and a pass breakup in the Football Team's win over the Bengals.
Former BYU wide receiver Dax Milne played 23 offensive snaps off the bench and caught two punts for Washington, and former Utah State center Tyler Larsen played 21 snaps at center, including a recovered fumble after quarterback Taylor Heinicke took a sack.
Former Utah State cornerback Jalen Davis made four tackles and two tackles for loss in 46 defensive snaps for the Bengals. Timpview High product Xavier Su'a-Filo started at right guard and played 11 snaps on offense and one more on special teams for Cincinnati.
Liked the detail in this route by rookie WR Dax Milne. Working from the slot, runs an over route. Breaks inside initially but makes sure to get vertical before he breaks back across the middle to create separation. Ball thrown elsewhere, but nice route. pic.twitter.com/ORsY2j5Xr3

— Mark Bullock (@MarkBullockNFL) August 19, 2021
Buffalo 41, Chicago 15
Utah all-time leading rusher Zack Moss ran for 21 yards on four carries and 12 snaps off the bench to help the Bills rush past the Bears.
Weber State's Taron Johnson and Utah's Star Lotulelei did not play for Buffalo.
BYU and Granger High product Khyiris Tonga made two tackles with two quarterback hurries in 30 defensive snaps (and three on special teams) for the Bears, and Utah alum Jaylon Johnson had two pass breakups.
Baltimore 20, Carolina 3
Former BYU running back Ty'son Williams ran for 47 yards on 10 carries, including his first touchdown of the 2021 NFL preseason, in the Ravens' win over the Panthers.
Williams' 20-yard score with 9:08 capped the scoring for the Ravens, who rattled off 20 unanswered points after a scoreless first quarter between both teams.
Former Utah quarterback Tyler Huntley started and completed 24-of-34 passes for 187 yards and an interception, and also ran for 23 yards on seven carries for Baltimore. Former Utah State wide receiver Siaosi Mariner played 11 offensive snaps for the Ravens.
Former BYU lineman and Bountiful three-sport athlete Brady Christensen played 30 snaps at tackle and two more on special teams for the Panthers.
We're up 20-3 after that touchdown run by Ty'Son Williams!

Tune in to the rest of the game on @wbaltv11. pic.twitter.com/CaqA6yBnls

— Baltimore Ravens (@Ravens) August 22, 2021
Miami 37, Atlanta 17
Former Utah standout Eric Rowe started at cornerback and made one tackle and one pass breakup in 29 defensive snaps of the Dolphins win over the Falcons.
Pleasant Grove product Zac Dawe had four tackles in 29 defensive snaps.
Pittsburgh 26, Detroit 20
Former SUU safety Miles Killebrew had a team-high five tackles in the Steelers' win over the Lions.
Desert Hills product Penei Sewell played 21 snaps at tackle for Detroit, and Utah alum Darrin Paulo played two snaps on special teams.
Former BYU running back Jamaal Williams and Utah defensive end John Penisini did not play in the Lions' loss.
Tennessee 34, Tampa Bay 3
Former BYU lineman Chandon Herring rotated 28 snaps at guard in the Titans' rout of the Buccaneers.
Chris Wilcox, the seventh-round draft pick out of BYU, made two tackles 28 defensive snaps for Tampa Bay, and added 10 more on special teams.
Houston 20, Dallas 14
Bingham High product Dalton Schultz started and had one catch for 9 yards on 12 snaps at tight end in the Cowboys' loss to the Texans.
Brighton alum Simi Fehoko caught two of three targets for 24 yards while playing 29 offensive snaps and six on special teams for Dallas. Utah alum Bradlee Anae had three tackles and a tackle for loss on 24 defensive snaps, and Herriman product Francis Bernard did not play for the Cowboys.
Indianapolis 12, Minnesota 10
Former Layton High and Utah star Julian Blackmon started at safety and finished with four tackles in the Colts' win over the Vikings.
Former BYU standout Isaiah Kaufusi, who prepped at Brighton, had one tackle in 23 defensive snaps for Indianapolis, Utah alum Sam Tevi played 35 snaps at tackle, and former Weber State tight end Andrew Vollert played 11 snaps.
Hunt High product Noah Togiai did not play for the Colts.
Cleveland 17, NY Giants 13
Former Utah State receiver JoJo Natson ran for 12 yards and added a pair of punt returners 11 yards in the Browns' win over the Giants.
Former BYU linebacker Sione Takitaki and Salem Hills quarterback Porter Gustin did not play for the Browns.
Former Utah running back Devontae Booker ran for 27 yards on six carries, including a 1-yard scoring plunge in the first quarter for the Giants. He was joined by fellow Utah alum Jackson Barton, the Brighton product who started at left tackle for the Giants.
He's in there!

📺: NBC4/@NFLNetworkpic.twitter.com/yJBT4XNKbI

— New York Giants (@Giants) August 22, 2021
Las Vegas 17, LA Rams 16
Former Utah State safety Nevin Lawson made five tackles in the Raiders' win over the Rams.
Former Utah State safety Dallin Leavitt made two tackles for the Raiders, and former BYU tight end Matt Bushman caught one pass for 9 yards.
Former Utah lineman Jeremiah Poutasi, a Las Vegas native, rotated on 23 snaps at tackle for the Raiders on an offensive line that did not feature Herriman product Andre James.
One-time Utah Valley soccer star Matt Gay, who also kicked for Utah, booted a field goal of 36 yards and made his only extra-point attempt for the Rams — but was also pressed into punting.
Due to COVID-19 protocols that sent two punters to the inactive list, Gay punted four times for 168 yards, an average of 42.0 yards per punt with a long of 50.
Denver 30, Seattle 3
Former Utah linebacker Pita Taumoepenu made two tackles in 26 defensive snaps in the Broncos' win over the Seahawks.
Fellow Utah alum and Westlake product Garret Bolles started and played 23 snaps at left tackle for the Broncos, who put former Utah receiver Tim Patrick on the inactive list.
Former Cedar High quarterback John Ursua tied for the team-high with 34 yards on three catches for the Seahawks, and Highland High alum Bryan Mone made two tackles in 17 snaps at nose tackle.
Utah State's Bobby Wagner and Utah's Marquise Blair did not play for Seattle, which got two tackles and a pass breakup on 35 defensive snaps and six on special teams from Brighton alumnus Cody Barton.
×
Photos
More stories you may be interested in