The first cases of the Lambda variant of COVID, which is showing resistance to vaccines in Tokyo, Japan, have been detected in Louisiana, while the country still continues to respond to rising cases and hospitalizations caused by the Delta Variant.
WBRZ reported on Thursday that the Lambda variant, which is believed to have originated in Peru and was first reported in the U.S. in Houston, Texas, has now been recorded in northern Louisiana, which shares a border with the Lone Star State.
Dr. Aldo Russo, the medical director at Ochsner Medical Center in Jefferson, Louisiana, told the local outlet that the Lambda variant had been recorded in the state, saying that "there have been a few cases detected in North Louisiana with the Lambda variant."
Russo confirmed that the variant has not yet been detected in Louisiana's capital, Baton Rouge, but said that health care professionals across the state are testing for it.
He said that health care professionals do not yet "know whether this is going to be a more aggressive or less aggressive virus," but played down reports from Tokyo that it is resistant to COVID vaccines.
Research by a team from the University of Tokyo, which has not yet been peer-reviewed, found that three mutations in Lambda's spike protein help it resist neutralization by vaccine-induced antibodies.
Two mutations in the Lambda variant—T76I and L452Q—make it more infectious than the COVID variant that swept through the world in 2020, according to the study.
"They have stated that there may be some resistance to the vaccine, but that it was a different vaccine that they were using. They were using the Chinese vaccine," Russo said about the study, as he explained that it is too early to tell whether shots authorized for use in the U.S. will offer enough protection.
When asked by WBRZ about the best way to tackle the new variants of COVID, Russo said that people need to get vaccinated against the virus to get protection.
Breakthrough cases in the U.S. are very rare and although the graphic below provided by Statista shows that around 6,000 people have contracted COVID after getting vaccinated, the number is still very small compared to the 165 million people who are fully vaccinated in the country.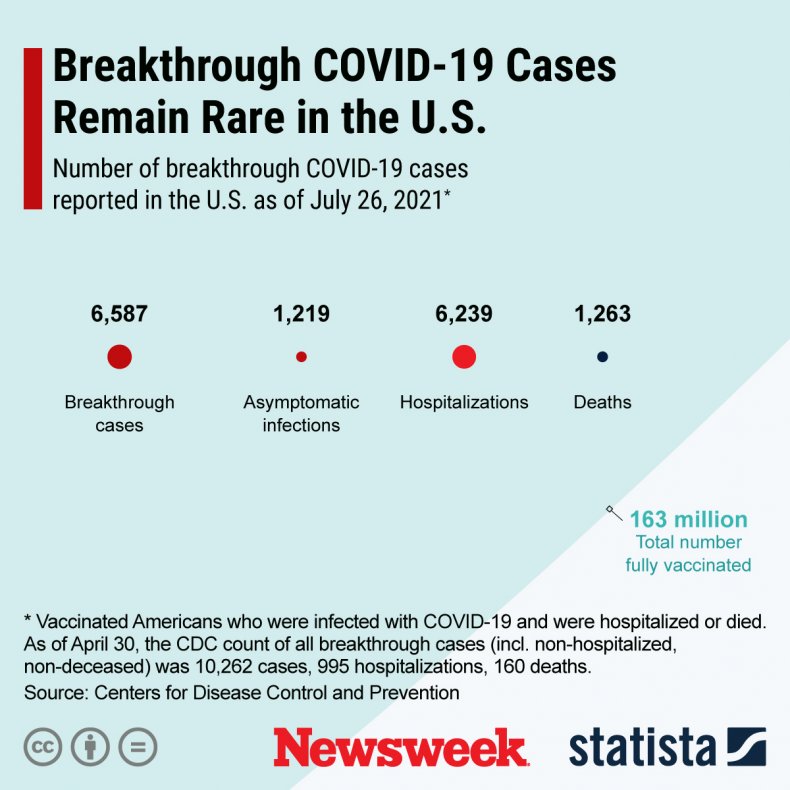 The U.S. has seen COVID hospitalizations more than triple over the last month as the virus's highly contagious Delta variant continues to spread across the country.
The U.S. recorded 127,108 news COVID cases on Thursday, which was up from the 112,270 seen in the country on Wednesday. The U.S. has now recorded a seven-day average of at least 100,000 new cases over the last week.
Although the Lambda variant is spreading, the Centers for Diseases Control and Prevention (CDC) told Newsweek on Thursday that the proportion of Lambda cases is very low, with only 0.17 percent of variant cases being the variant.