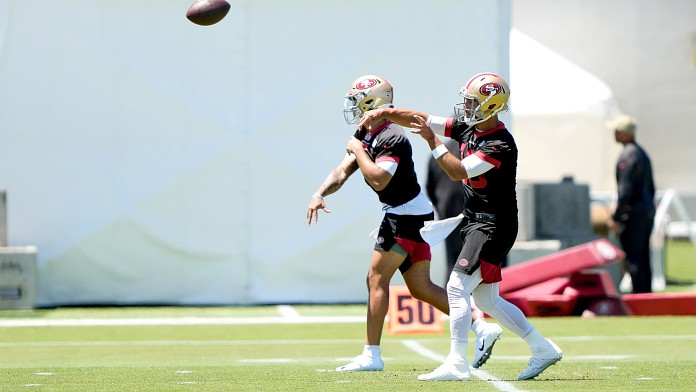 Trey Lance is adding a new level of excitement surrounding the San Francisco 49ers. Not necessarily for this season—although some will argue that wouldn't be the worst thing—but for the team's future.
One longtime 49ers reporter, Matt Barrows of The Athletic, has been keeping a close eye on the team's top two quarterbacks during training camp. While Jimmy Garoppolo remains slated to be the starter come Week 1, Lance is making a strong case that he may be ahead of schedule in his development. The rookie quarterback—the No. 3 overall pick in this year's draft—has been the most intriguing of the four quarterbacks on the practice field, and it's not even close.
Barrows recently joined the No Huddle Podcast and was asked about Garoppolo's training camp performance so far. It hasn't been bad by any means. However, the reporter's description leads one to believe that it also hasn't been as impressive as general manager John Lynch recently let on when he told ESPN's Adam Schefter that Garoppolo is playing "his best football since he's been here."
Barrows' assessment of the veteran quarterback sounds very different.
"He's looked like Jimmy Garoppolo, which is he's been efficient, he's good at the short stuff, he's got the quick release," Barrows told Al Sacco this week. "He had a really nice pass [on Tuesday] to George Kittle deep in the red zone where he rolled right, slipped the ball to Kittle on the run so Kittle could continue his momentum, and it took him right into the end zone. That's what he's good at, the sort of short, intermediate stuff.
"And he also throws the 'Oh, what are you doing?' pass every now and then. There was a really good example of that—I forget what day it was—maybe it was the third day of training camp where he was surveying the field, he looked downfield, he hesitated, and then he decided, 'OK, I better go for this. This guy is wide open.'
"I think it was Deebo Samuel who was well down the field. And I knew, and everyone standing around me knew that he just did not have the arm to get it down there. And I think he probably knew it too. And to no one's surprise, it kind of fluttered in the air and was well short, and Jason Verrett picked it off for a very easy interception."
That brings us to Lance. Barrows uses another example from training camp to properly explain the difference between Garoppolo and his eventual successor, and what it might mean for Shanahan's always evolving offense.
"Lance does almost the same thing on a throw to Deebo Samuel, but he's got enough of [an arm] to get it all the way downfield," Barrows shared. "It wasn't a great ball, the one that I'm thinking of. It should have actually been picked off by Jared Mayden, but it was close enough where Mayden mistimed his leap and Samuel caught it, and ran in for a touchdown.
"That's a significant difference between those two guys. One is that Garoppolo doesn't always pull the trigger on that. He'd rather not, and everyone and their brother has noticed that he doesn't throw deep, and he doesn't like to throw outside the numbers deep, certainly.
"Lance has no qualms about doing that. He's got no reservations. He drives the ball deep, goes down the sideline quite a bit. That's really been the most surprising (thing)."
Barrows used the word "surprising" but nearly used another word to describe Lance's training camp throws.
"I was about to say 'astonishing,' and I think that's a good word," Barrows continued. "He's a rookie. We know the track record of how little he played in college (17 career starts), but he's come into training camp with a boldness that sort of defies that very scant college background that he has. … He hasn't acted like a lost baby deer in the woods.
"He's been really aggressive, and his offensive play-caller—happens to be the head coach—is the same way. So, I've got to think that this beginning to training camp has pleased Kyle Shanahan to no end because he sees that aggression."
Barrows notes that everything he said only touched on Lance's ability as a passer. The quarterback has shown that he can frustrate opposing defenses with his legs too. That adds a whole different dynamic to Shanahan's offense, which is bad news for the rest of the NFL.
You can listen to the entire interview below.
San Francisco 49ers quarterback Jimmy Garoppolo spoke with reporters after training camp practice today. Here is everything he had to say.
Transcript provided by the San Francisco 49ers Communications staff.
How's this camp been?
"I've been pleased with it. It's been competitive out there. It's been good. Since I've been here, it's been probably the most competitive camp we've had offense versus defense, I think, but I'm pretty pleased with where we're at. I think there's obviously some things we've got to shore up, cadence, too many penalties. Having the refs out here has been good just to shine a light on it. But there's things for us to clean up."
Head coach Kyle Shanahan mentioned the defensive line
Matt Barrows of The Athletic joins Al to discuss the Trey Lance Hype Train and what he's seen so far from San Francisco 49ers training camp, including:
What does Lance already do better than Jimmy Garoppolo?
When will Lance be ready to start?
The wide receivers behind Aiyuk and Samuel
Rookie running backs and cornerbacks
DeMeco Ryans
Tavon Wilson
The 49ers' loaded roster
Then, Al breaks down Lance further and
Trey Lance may well find himself as the starting quarterback for the San Francisco 49ers before the season's out, but he clearly won't be starting training camp that way based on what head coach Kyle Shanahan said Tuesday.
The 49ers obviously plan on Lance eventually being the starter over incumbent Jimmy Garoppolo after trading up to select him with the third overall pick in the 2021 NFL Draft. But as of now, the job remains Garoppolo's to lose.
"There's no open competition right now in terms of they're getting equal reps with the same group," Shanahan told reporters Tuesday, one day before the start of camp. "Jimmy's coming in as the one and Trey's coming in as the two."
Lance
Jimmy Garoppolo enters training camp as the starting quarterback for the San Francisco 49ers. However, the team made a move for the future this offseason with the selection of Trey Lance, indicating that the rookie, not Garoppolo, is the quarterback of the future.
The situation has changed significantly since the 49ers signed Garoppolo to a mega-deal following the 2017 season.
Still, for now, the job is Garoppolo's. And from the sound of reports coming out of Santa Clara this offseason and even today, as the 49ers held their first practice of training camp, Garoppolo has performed well and won't relinquish his job without a fight.
Garoppolo stepped up to the podium after practice and was asked about his relationship with Lance. The two were seen